I loved Bonnie's quiz so much on Monday, I decided to try one of my own. We've never really broached the subject of fashion on this blog, so today we're going to examine what we writers wear when we sit down to write, and what our choices reveal about us. I'm sure this is as accurate as any quiz you'd take in Writer's Digest. So please, choose one item from each picture to complete an ensemble, and then locate your results below.
Hats: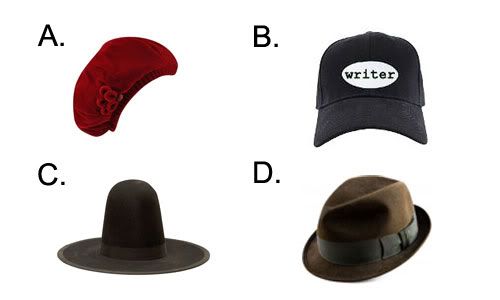 Tops: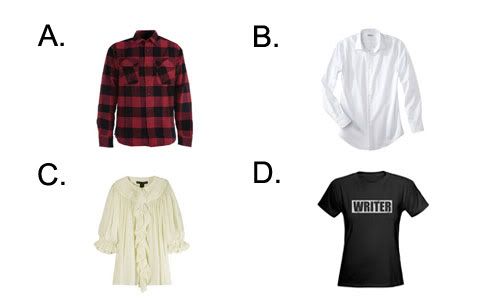 Pants: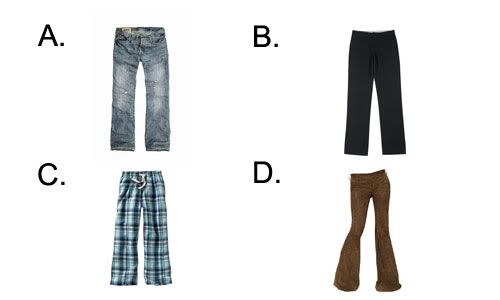 Shoes: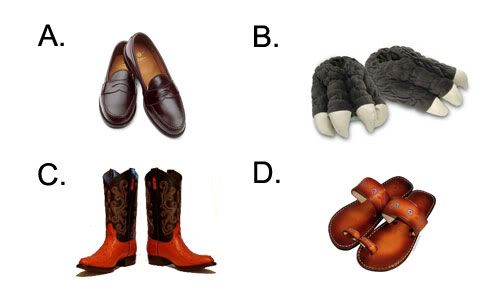 Inspiration: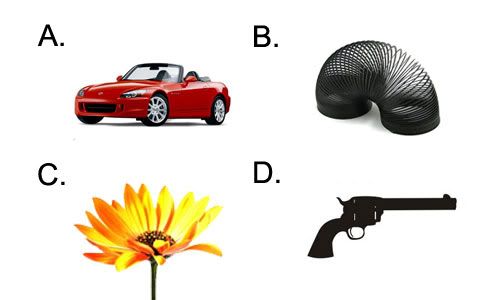 If you chose: Hat: A; Top: C; Pants: D; Shoes: D; Inspiration: C
Oh, you sweet thing. You are a new writer (or at least still fresh), in love with words and life and everything which is natural which is infinite which is yes. You are like Winona Ryder (Jo) in
Little Women
, scribbling away in her leather journal. Do all you can to stay in love - your best writing will come from your deepest feelings. Just remember to get your writing out of the journal and onto a manuscript. And don't forget to edit!
If you chose: Hat:B; Top: D; Pants: C; Shoes: B; Inspiration: B
Uh oh! You are blocked. Like Emma Thompson in
Stranger Than Fiction
or Johnny Depp in
Secret Window
, your confidence is so low you've thought of wearing clothes that say "Writer" to prove - at least to yourself - that you are one. You need to snap out of it, and then relax. Right this minute, go put some real clothes on. No more slippers and pajamas. Comb your hair and put the slinky away. Then get back to your desk, take a deep breath, and write drivel for an hour without once pressing delete. Sooner or later, if you don't smoke yourself to death, you'll write something you love. I promise.
If you chose: Hat: C; Top: A; Pants: A; Shoes: C; Inspiration: D
Oh no! You're worse than blocked - you are (in alphabetical order) aggravated, exacerbated, exasperated, frustrated, and in tears. You're afraid you'll never get to the promised land, and you're tempted to take it by force. Please don't do anything I'll regret. Nobody stole your story. Perhaps it's buried under too many words, or half-starved by too few. The benefit of being a
Christian
writer is that you know that frustration is normal and triumph a miracle. But miracles do happen if you keep on.
If you chose: Hat: D; Top: B; Pants: B; Shoes: A; Inspiration: A
Hooray! You've arrived - or at least relaxed - as an author. You iron your shirts and polish your shoes, because you never know when you might give an interview or receive an award. Like Christopher Reeve in
Somewhere In Time
, you allow yourself a diversion - now and then. Just be careful, won't you? Don't forget to come back to us.
If you chose: Hat: A; Top: B; Pants: D; Shoes: B; Inspiration: D
You're confusing me to pieces. Are you playing with my brains? Please put the gun down.
The Fine Print:
Okay, all those pictures came from nice places that should recieve credit. You can even buy most of this stuff:
Velvet beret: http://www.polyvore.com/betmar_velvet_beret/thing?id=22865247
Writer cap: http://www.cafepress.com/+writers_hat,14847632
10-galoon hat: http://www.nps.gov/history/museum/exhibits/nepe/imgGal.html
Fedora: CMSeter http://www.sxc.hu/photo/1110313
Flannel shirt: http://www.contractors-solutions.net/flannel-shirt.aspx
Button down shirt: http://www.target.com/p/Mossimo-Supply-Co-Men-s-LS-Shirt-White-Button/-/A-13748120?ref=tgt_adv_XSG10001&AFID=Froogle_df&LNM=%7C13748120&CPNG=men&ci_src=14110944&ci_sku=13748120
Writer shirt: http://www.cafepress.com/+writer_castle_womens_dark_tshirt,440590342
Poets shirt: http://www.polyvore.com/silk_poets_blouse/thing?id=7478555
Jeans: http://www.jeans-us.com/af-baxter-low-rise-slim-boot-destroyed-jeans-p-1230.html
Suede bellbottoms: http://www.lyst.com/clothing/balmain-brown-suede-bell-bottom-trousers/
Pajama pants: http://tips.become.com/sleepwear-tips/pajama-fabric.html
Dress slacks: http://fashion4us.com/wholesale-fashion-detail.action?id=258294
Cowboy boots: http://www.sxc.hu/photo/1101209
Slippers: http://www.warehouse23.com/item.html?id=TYVGZ131
Loafers: http://www.bensilver.com/Alden-Cordovan-Penny-Loafer,2418.html
Sandals: http://www.hippieshop.com/cgi-bin/gold/category/5000
Slinky: http://www.thinkgeek.com/geektoys/cubegoodies/9a73/
Car: http://www.team-bhp.com/forum/modifications-accessories/42634-modification-indian-car-into-convertible-sports-car.html
Flower: http://www.sxc.hu/photo/1351804
Gun:http://www.sxc.hu/photo/1329262
How'd you do?
Come on, you can tell us. We love to read what you have to say.