Oh dear, Latayne wrote eloquently on Monday about getting snagged by the little things that lead to a sumptuous poem or novel, and I'm here to talk about broccoli. Now you see what I'm up against around here. I'll try to make this the best discussion on broccoli you've had today, because we've come to Anne Lamott's chapter in Bird by Bird, "Broccoli." I wasn't quite sure what a chapter titled "Broccoli" would offer about the writing craft, but Anne never disappoints. For one thing, I'm now very good at spelling broccoli . Please join in our discussion. You are my best teachers.
Listen to your broccoli, and your broccoli will tell you how to eat it. "2,000-Year-Old-Man," Mel Brooks, a quote from Bird by Bird
There are two things you don't want to go bad in your refrigerator--refried beans or broccoli. If that happens, freeze the container with its contents intact and throw the whole mess away on trash day. Do. not. Open. The. Container. Otherwise, the odor will ruin your hearing. I know this to be true from personal experience.
It's been over a year since my agent called to say my publisher had canceled my contract for a third book (stinky broccoli!). Sales weren't good enough to justify the investment in another Patti Hill book. How did that feel? Think of being hit by a Mack truck that backs up and hits you again and again. That's pretty much how it felt.
Today, I am a stronger woman. I write for totally different reasons, but the stink of the broccoli remains. I was about 2/3rds of the way through my WIP when I got the news. I toyed, seriously, with the idea of burying the manuscript in the backyard and turning my office into a craft room. I prayed for direction and God spoke to me--no kidding!--through someone who didn't even know I'd asked God whether I should keep writing or not. She said, "Keep doing what you're doing. Don't get discouraged."
So I sat down at the computer with the odiferous broccoli wafting around me.
According to Anne Lamott, the wisdom of listening to your broccoli to know how to eat it means this:
It means, of course, that when you don't know what to do, when you don't know whether your character would do this or that, you get quiet and try to hear that still small voice inside. It will tell you what to do. The problem is that so many of us lost access to our broccoli when we were children.
Or had our contracts canceled. Ouch!
You need your broccoli in order to write well. Otherwise you're going to sit down in the morning and have only your rational mind to guide you.
That will not do. We need to trust our intuitions to write something that is honest and true--and fun. So, how do we get our broccoli back. Here are Anne's suggestions:
You get your confidence and intuition back by trusting yourself, by being militantly on your own side.
I'm starting a new WIP , so I'm working at regaining my sense of trust. How in the world am I
going to do that? This kind of confidence doesn't come from believing what others say about you or your writing. It's something that comes from within. I've set some toys on my desk to remind me that, first and foremost, storytelling is play. I never worried about the quality of my play or my daydreams as a child, I simply indulged. Must do that again.
You get your intuition back when you make space for it, when you stop the chattering of the rational mind.
As much as I'm able, I'm going to keep my new story to myself until it's written. I never told anyone about my daydreams when I was a child, because I would have heard, "Where are you going to get an Arabian horse? How will you feed it? Where will you keep it? How will you get a horse to Arabia? Do you speak Arabic? How can you race Seabiscuit? I think he's dead." This monologue may seem silly to you, but it's not far off from the uptight writer I've been for the last year. These kinds of questions can and should be answered of our writing, but not until the rough draft is written.
Sometimes, intuition needs coaxing.
My outline will be much looser this time around. I have plot points and an ending in mind. I'll jot these down on Post-it notes and start writing. This will demonstrate, at least to me, a new kind of trust in the gift God has given me, my story intuition. This should be fun...and terrifying but not boring.
I think a major step in learning to rely on your intuition is to find a usable metaphor for it...whatever you come up with needs to suggest a voice that you are not trying to control.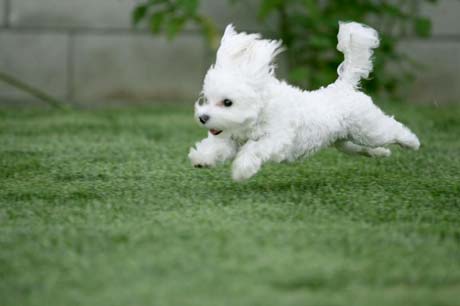 Oh boy. I need something a little more candid and active than broccoli, but not as general as "animal," as one of Anne's friends uses. How about that Arabian stallion I loved as a kid? His hooves are too hard. How about a monkey? They're expressive. Playful. They fling poo. Sorry, no. A puppy? They're playful and spontaneous, plus you can put them in a crate when their play or piddling gets out of hand. Okay, a puppy it is. Now, when I sit down to write, I'll let the "puppy" out to play. Release the hounds!
I know the whole discussion about intuition can be a bit esoteric. Weird. Out there. But trusting your intuition and/or imagination is vitally important for fresh writing. And I want to be known for my fresh writing. Don't you?
Do you struggle to trust your intuition? So how do you release your intuition? What's your metaphor for your intuition? Come clean!