I came home a black little rain cloud today.
It was not the worst kind of a day, but it was a hard day, and perhaps the difference between a bad day and a worst day is how long it will take you to find your way back.
"I ought to say," explained Pooh as they walked down to the shore of the island, "that it isn't just an ordinary sort of boat. Sometimes it's a Boat, and sometimes it's more of an Accident. It all depends."
"Depends on what?"
"On whether I'm on the top of it or underneath it."
I've had days that kept me lost for months, several of them. And one or two that kept me lost for years.
"I'm not lost for I know where I am. But however, where I am may be lost."
This time, I may find my way back tomorrow. It was only a bad day. And one of my ways of finding my way back is to listen to music. Can you guess what song caught my ear tonight?
Another way is to write to you from The House at Pooh Corner, about the things that point back home.
Like people who love me.
"It is more fun to talk with someone who doesn't use long, difficult words but rather short, easy words like "What about lunch?"
Like simple, lovely things to eat, such as omelettes and toast with jam.
"I don't feel very much like Pooh today," said Pooh.
"There there," said Piglet. "I'll bring you tea and honey until you do."
Yes, like a cup of tea.
Things like that can carry us a ways back. A little ways.
"Well," said Pooh, "what I like best," and then he had to stop and think. Because although Eating Honey was a very good thing to do, there was a moment just before you began to eat it which was better than when you were, but he didn't know what it was called."
Longer distances require a sense of mystery, of things we don't know how to name. And while conversing with this mystery will gain you a hand to guide the way, it is possible to over-think.
"Rabbit's clever," said Pooh thoughtfully.

"Yes," said Piglet, "Rabbit's clever."

"And he has Brain."

"Yes," said Piglet, "Rabbit has Brain."

There was a long silence.

"I suppose," said Pooh, "that that's why he never understands anything."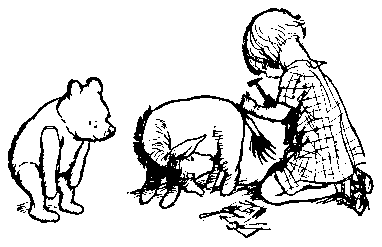 Ah well, but I seldom understand much.
"I did know once, only I've sort of forgotten."
Exactly.
"It's not much of a tail, but I'm sort of attached to it."
Tra-la-la, tra-la-la,

Rum-tum-tiddle-um...